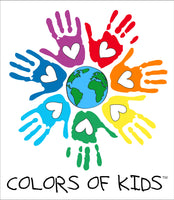 Welcome to the COLORS OF KIDS website!
Please take a moment and look through all the original artwork we have been given by the students at the PCEA Nanyuki Academy in Nanyuki, Kenya. Each one of these paintings sell for $20.00 plus postage and handling. They each come with a very nice black wooden frame and are able to be hung on a wall or stand up on a table.
Please know, any orders outside of the United States will need to be called in or email us so we can give you a quote for the postage.
$10.00 for each painting sold is fund-raising money for the school to purchase much needed computers, playground equipment, books, crayons, desks, tables and all the essential things needed for an elementary school to function.
Thank you very much for supporting our program, and please tell your friends about this website as well.  These paintings make great Holiday presents for your entire family!
Sincerely,
Jim West
Craftours Owner
"It took me four years to paint like Raphael,
but a lifetime to paint like a child." ― Pablo Picasso